The passports we set aside for season 2 have all sold out. If you're interested in coming out to the cabins for a retreat or residency, follow us on Twitter: @creatorcabins for updates.
Your invitation to join us for Cabin DAO Season 2
We are excited to announce the general availability of Season 2 Passports, your ticket to participating in the next season of Cabin DAO. Our Season 2 Proposal, "Multiplayer Mode", builds on lessons from Season 1 by opening up our cabin to DAOs, squads, and guilds for one week stays.
These Passports are NFTs that can be purchased for 1 ETH and grant four people a weeklong stay at Creator Cabins. Our modern shipping container cabin has private bedroom suites, common living spaces, sunny decks, a stock tank pool, 150 mbps of dedicated bandwidth, and access to 28 acres of nature to explore: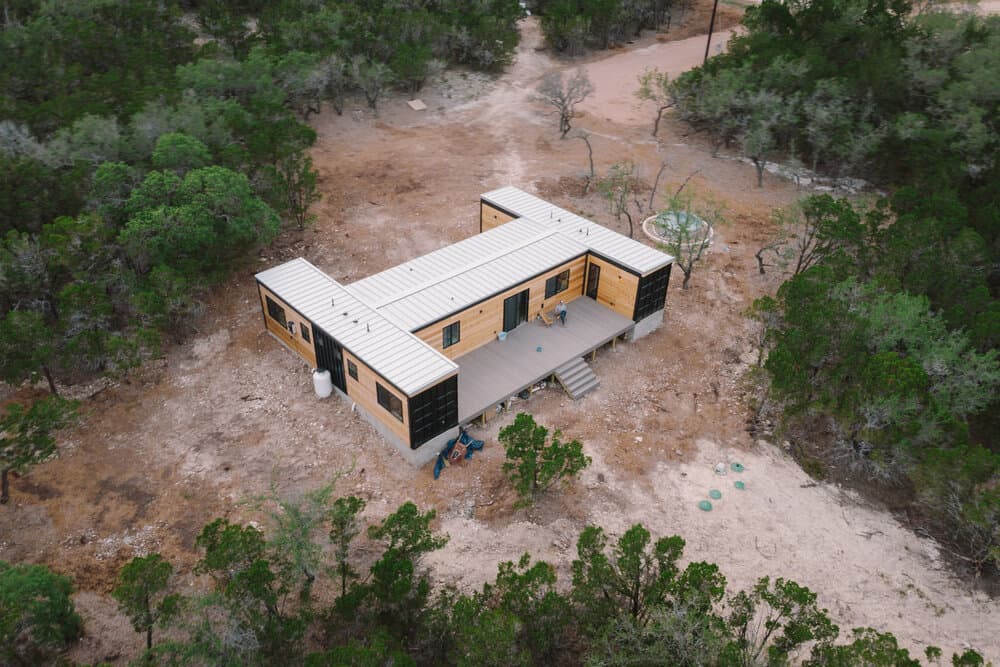 As NFTs, these Passports are composable and connectible to the wonderful world of web3. Anyone can purchase a week at the cabin, which we believe are the first on-chain micro-leases.
A group of friends could buy a Passport to finally work on a project they've been dreaming about. DAOs can buy Passports to host a team retreat, vote on which members can attend, or even to start their own DAO-sponsored residency (we'll help you with the application and voting processes!). Maybe someone gets fancy and starts a PartyBid to crowdfund a live streamed micro-conference. This is web3, who knows what happens next 🤷
Read on to learn more about the passports and the benefits that come with purchasing one. If you're ready to purchase a week-long stay at the cabins, scroll down to the bottom of this article.
What is Cabin DAO?
Cabin DAO is a group of independent online creators building a decentralized city.
We invest in up-and-coming web3 talent and connect them into a network of squads, guilds, and DAOs where they can contribute and grow. Entering web3 can feel like wandering through a dark forest without a map. We are a cabin in the woods where you can stop in for a drink and a warm bed, in the metaverse and IRL.
The metaverse is the best place to meet people and find your tribe. But reality is much higher bandwidth. Once you've made connections online, we believe in coming together in person to deepen relationships and experience the liminal space and time that leads to creative breakthroughs and the best conversations.
Over time, we hope to grow from cabins to villages to decentralized internet-first cities. Passport sales will help fund this vision—we will use the proceeds to help fund construction of our next cabin village on site.
Where are we located?
The first node in our decentralized city is Creator Cabins, 28-acres of private land in the Texas Hill Country about 45 minutes outside of Austin. We are located minutes away from Pedernales Falls State Park and have a seasonal creek, wildlife, and amazing stargazing on site. And, of course, real Texas BBQ a short drive away.
What comes with a Passport?
Each Passport grants the holder a specific Monday - Sunday stay in our four bedroom shipping container cabin. Passports are transferable to others, but they are only valid for the week listed on the NFT. The cabins are located about 45 minutes outside of Austin, TX. If you fly into Austin and choose not to rent a car, we will arrange for one shuttle to pick up your group on Monday and return you to the airport on Sunday.
Cabin DAO's guild of engineers, artists, writers, and builders will be available to help support your group remotely. Each Passport holder will be airdropped 10 $CABIN upon arrival to keep or spend on DAO services. More $CABIN can be purchased, and Passport holders will have access to the Cabin DAO bounty board to list additional bounties in $CABIN or a token of their choice.
In addition to project support from the guild, we can provide on-site ancillary services for a fee, including pre-stocked groceries, day trips (vineyard tours, state park outings, adventures in Austin), and facilitated group sessions.
When are Passports available?
Starting today, we are releasing Season 2 Passports for each week (Monday - Sunday) from January 3rd - March 27th. Check-in starts at 3pm on Monday and check-out is by 12pm on Sunday. If you want to stay for multiple weeks, you can buy consecutive NFTs.
You can buy Passports now to reserve your week(s) of choice. Any weeks that aren't sold will be used by Cabin DAO to run our free residency program for independent online creators (subsidized by Passport purchases!).
Who can buy a passport?
Anyone who is vaccinated against COVID-19 and able to make it to Austin, TX for their weeklong stay. The cabin has four private bedroom suites, which can each support an individual or couple. Unfortunately, we aren't able to host dogs in the cabin.
Who is this for?
In addition to the requirements and guidelines listed in Who can buy a passport?, we expect this program will be really great for DAOs, guilds, and squads that have worked together remotely for a period of time and would like to benefit from the high-bandwidth nature of IRL collaboration.
We would love to see all different kinds of projects and groups use the cabins. Some examples of projects and teams we think will work well in this type setting are:
A team working on a creative NFT project that wants to spend the last week(s) before launch collaborating IRL
A DAO's leadership team that wants to spend a week brainstorming their next year's roadmap at a whiteboard, on a long walk, or in the stock tank pool
A squad that wants to come together to work on a project in person
A creative team (podcast, video production, artist, or otherwise) that wants to spend a week dedicated to content creation
What happens after I buy a Passport?
Join our discord server and introduce yourself. Then head over to the `#🛂 passport` channel, where we can answer questions and help you plan your trip. Cabin DAO can help figure out where to plug in and support your team, from stocking groceries to helping develop your governance systems.
After the week, the NFT remains yours as a memento of your time at the cabins.
Season 2 Passports
The passports we set aside for season 2 have all sold out. If you're interested in coming out to the cabins for a retreat or residency in the future, follow us on Twitter: @creatorcabins for updates.