Cabin is a decentralized city built by creators, for creators. We are the DAO to help other DAOs accelerate their work by getting together IRL.
Today Cabin announces its treasury diversification. We minted 1 million ₡ABIN with 10% going to strategic partners in exchange for $2.5M USDC. In this article, we discuss our:
Community driven treasury diversification

Community focused token governance

2022 roadmap
Follow along on Cabin's governance journey in our weekly newsletter.
On October 29th, 2021, the Cabin community decided in a Snapshot vote to mint a new token to grow our community and scale our impact.
The original $CABIN token was minted as part of our donation-based crowdfund for the first creator residencies. This initial crowdfunded was a fair token launch, where anyone could make a donation and participate in the selection of creators for the residency program via token-based governance. No $CABIN was preminted and a fixed supply of $CABIN was distributed to the contributors and held in a shared treasury.
In order to grow the community, we needed to create a new token that didn't have a small, capped supply. The new token (₡ABIN) has a larger supply, a mechanism to mint more tokens, and will support the community through our 2022 Roadmap and beyond. Existing $CABIN holders received ₡ABIN as part of the token migration.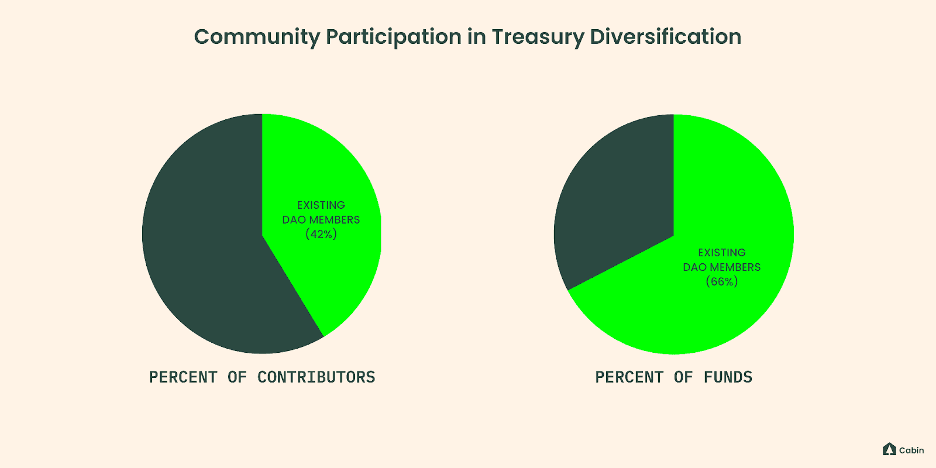 In addition to minting the new ₡ABIN token, we diversified the treasury with stable assets to be used to compensate community members. The treasury diversification was an internally driven community effort: 42% of the contributors to the diversification were already Cabin members and combined, they represent 66% of the total funds contributed. ₡ABIN holders new and old include a broad coalition of leaders across the DAO and web3 community, and all are now participants and members of Cabin: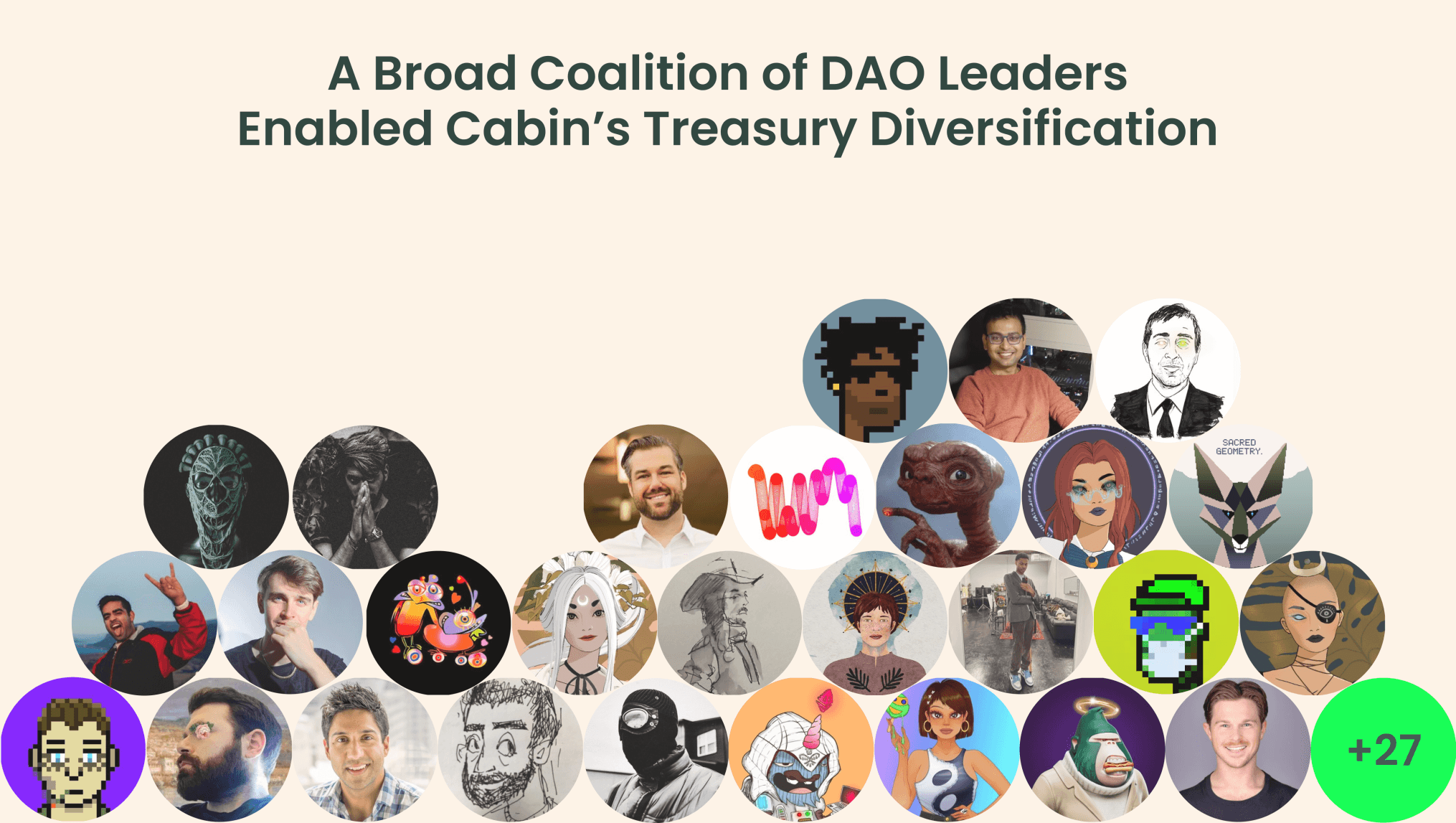 New Friends
Balaji Srinivasan (1729), Ellie Day (Always Online), Bobby Thakkar (Ampersand), Trevor McFedries (Brud / FWB),  Ben Lakoff (Charged Particles), Zach Anderson (Coordinape), Trachyopterics (Coordinape), David Phelps (Cow Fund), Clay Coffman (CryptoSlam), David Rodriguez and Artia Moghbel (Draft VC), Kunal Tandon and Stew Bradley (El Cap), Justin Alanis (Fedora Capital), Scott Moore (Gitcoin), Sahil Lavingia (Gumroad), Reuben Bramanathan (IDEO CoLab), Kevin Henrikson (Instacart), JJ Zhang (Instacart), Abhishek Punia (Index Coop), Marc Weinstein (Mechanism Capital), Yalor Mewn (Metacartel), Sky Minert (Metacartel), See Eun Ha (Metacartel), Joshua Lapidus (Opolis), John Paller (Opolis), Gordon Gould (Ocean DAO), Spencer Graham (Raid Guild / DAO Haus), Brad Lichota (RPM), Harsh Patel (Shipyard), Jonathan Wasserstrum (SquareFoot), Ian Lee (Syndicate), Gabriel Haines (Talking Crypto)
Julia Lipton (Awesome People), EchoTango (Cabin), Eric Scott (Cabin), Greydient (Cabin), Marcus (Cabin), Nawaz (Cabin), Stef (Cabin), Tim Coil (Cabin), Orpheas (Cabin), Carlos Gomes (Forefront), Cooper Turley (FWB), Julian Weisser and Tyler Willis (Kepler Ventures),  Metadreamer (Meta Factory), Patrick Riviera (Mirror), Vishal Kankani (Multicoin), emo.eth (OpenSea), Nima Asghari (Seed Club Ventures), Josh Cornelius (Seed Club), Bryan Altman (Setter), Sirsu (Well Labs)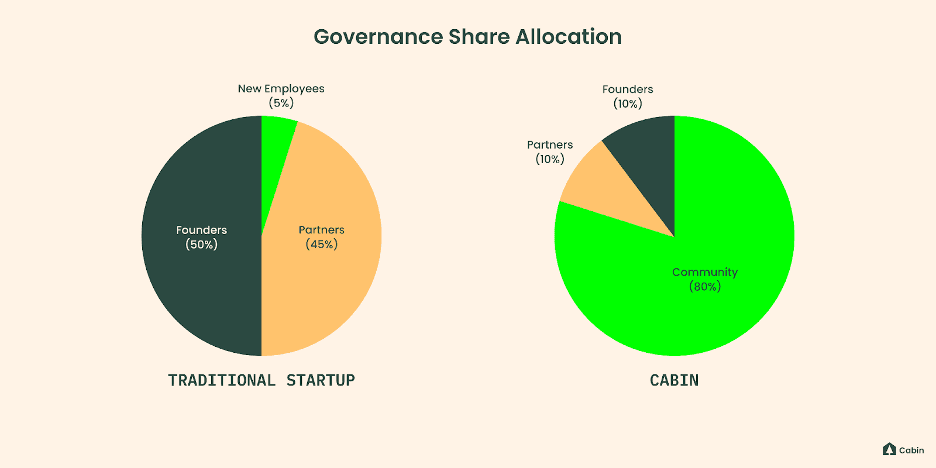 The majority of ₡ABIN is allocated for the future of our community. We believe that web3 is a place that should be accessible to everyone. We see the potential of DAOs to change not only how we work, but the structures of governance and power within organizations themselves. With traditional start-ups, it doesn't matter if you're employee 10 or 1000, you're structurally disadvantaged from having a significant say in the governance of the organization.
We believe there has to be a better way. Being a DAO gives us the freedom to experiment and put our ideas of radical transparency and open source organization into practice:
"The way we are allocating token supply is part of a broader effort on our part to figure out the things that only DAOs can do." Zakk, Cabin co-founder
With this new token, we allocated a fixed percentage to the founders (10%) and to strategic partners (10%), with the remaining 80% available for the community. As we mint more ₡ABIN, we will increase the amount that is available to the community. For our founders to earn more ₡ABIN, they will work shoulder to shoulder with members of the community across our guilds.
2022 Roadmap
This treasury diversification allows us to mark new trails in our 2022 Roadmap and will support our 50-year goal of building a decentralized city by creators, for creators.
Cabin's 2022 focus is to become the Embassy for DAOs. As the embassy for DAOs, we connect DAOs together to share learnings, build mutual financial incentives, and develop the culture of web3. This allows us to scale the GDP of DAOs to seed the economy and culture of our decentralized city.
Would you like to join us and see what we can build together?
We have a lot of incredible projects in our 2022 Roadmap and are actively onboarding new members in our Media, Placemakers, Product, and Community Guilds.
We invite you to follow us on Twitter for updates, check out our blog for DAO operator content, subscribe to our newsletter, and visit our Discord to take part in our community.
---
About Cabin
Cabin is a decentralized city built by creators, for creators. Cabin believes in the power of bringing people together IRL, especially for decentralized and distributed teams. We are the DAO to help other DAOs accelerate their work by getting together IRL.
Our mission is to build a decentralized city with nodes all over the world, empower creators to pursue an independent career online, and build the products for creators and DAOs to achieve the first two goals. Our decentralized city is made up of various nodes around the world, starting with Node 0 outside of Austin, Texas.
For more information, please visit https://www.creatorcabins.com/
To get more content from us on how to level up as a DAO leader and operator, make sure to subscribe to our weekly newsletter.